SO sorry if it already posted!
David Beckham watches on (again) as wife Victoria, aka Posh, performs with her fellow Spice Girls at the Mandalay Bay Arena in Las Vegas, Nevada on Sunday.
Looks like Becks bleached his hair again! Earlier today, he shows off Golden-bulge in an Armani Underwear ad.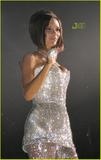 watch Victoria Beckham talking about how easy it is to sleep naked with a husband like David Beckham on Larry King Live!:
http://search.redlasso.com/ClipPlayer.aspx?id=9a254413-e2f8-4c56-a874-08d755137d85